Sunday Psalms 8/52
Join me each week for an encouraging look into the book of Psalms. May these words bless your heart, feed your soul, and make your day.
Psalm 31:1-5
New King James Version (NKJV)
In You, O Lord, I put my trust;
Let me never be ashamed;
Deliver me in Your righteousness.
Bow down Your ear to me,
Deliver me speedily;
Be my rock of refuge,
A fortress of defense to save me.
For You are my rock and my fortress;
Therefore, for Your name's sake,
Lead me and guide me.
Pull me out of the net which they have secretly laid for me,
For You are my strength.
Into Your hand I commit my spirit;
You have redeemed me, O Lord God of truth.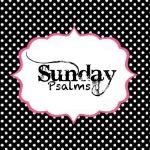 <div align="center"><a 


href="http://www.vanessawolframblog.com/" title="Living in Full Surrender"><img src="http://i827.photobucket.com/albums/zz193/VanessaWolfram/92fd20dc-6a19-46a3-a814-ccfddb8f9470.jpg" alt="Living in Full Surrender" style="border:none;" />